It's here! I am very excited to announce that the Allure WHMCS Theme is now available for purchase. A lot of work went into the creation of this theme and I am very thankful to all of the beta testers, addon developers and family that helped encourage me throughout this process. Your time is just as valuable as my own and your dedication has helped this release become a reality. Again, thank you!
For any and all pre-sales questions, please contact sales@swiftmodders.com. For any technical issues you've experienced with the theme, please open a support ticket by logging into the Client Area.
The Allure WHMCS Theme is full of some awesome features and I want to spend some time going through the key additions:
Dark & Light Theme Switcher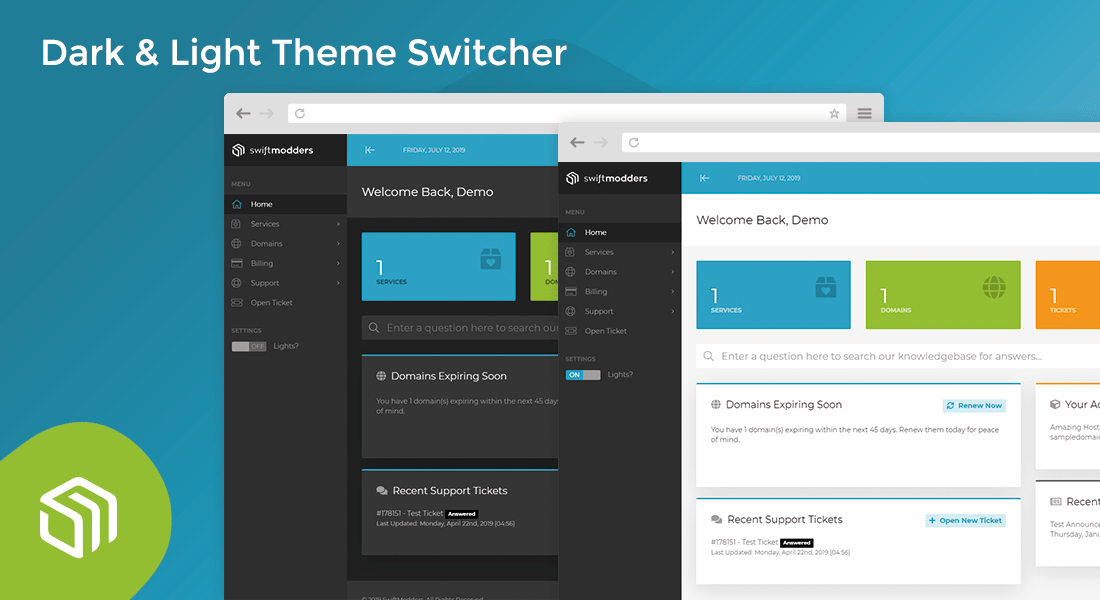 A very cool aspect of this WHMCS theme is the ability to toggle between the "Dark" and "Light" versions. Essentially this product offers two themes in one! Your customers will have the ability to either turn the "lights" off or on. The settings will be remembered for each clients browser instance and remain that way until they clear their browser settings. In addition, you can set the "Dark" theme to be the default theme. This is a great option for companies with a darker color palette than most.
Right-to-Left (RTL) Support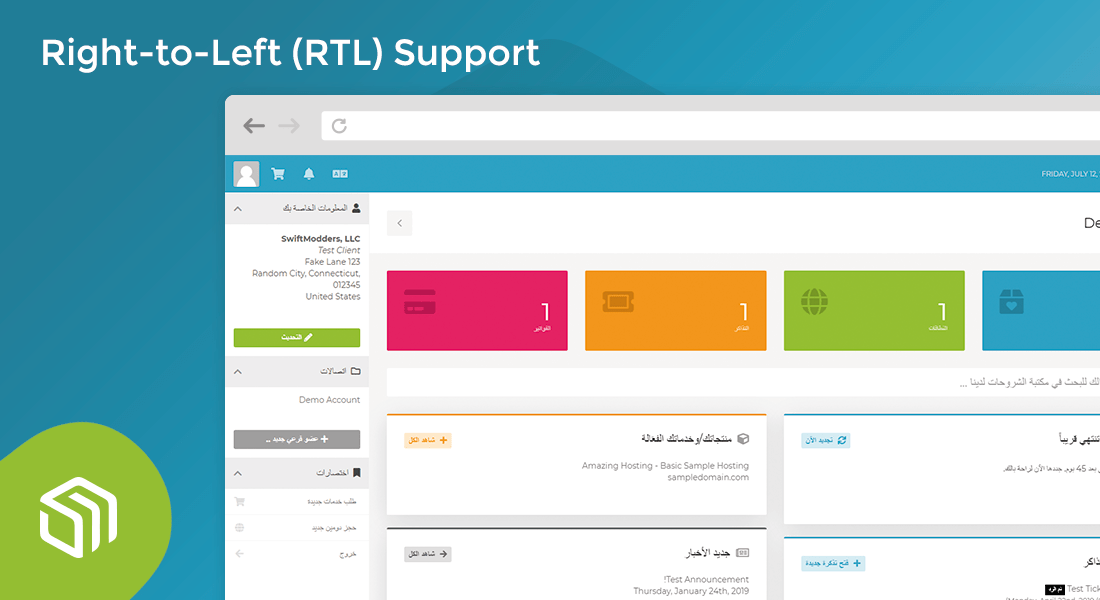 One of my goals for this theme was to challenge myself and branch out of my comfort zone. As you can imagine, I'm a native English speaker and I have no experience with other foreign languages. However, WHMCS offers multi-lingual support (without RTL) for their customers. This created a clear opportunity to make customers, who read their native language in a right-to-left format, more comfortable. The Allure WHMCS Theme offers RTL support out of the box. If you do not need RTL support, you can disable it entirely from the Allure Theme WHMCS addon.
Multiple Layout Options & Settings
Layout options for the Allure WHMCS Theme have been extended to give you a little more control. Of course, each layout option has its own unique pro and con, but it gives you the option to make that choice. It also gives the ability to choose a "light" or "dark" navigation and header. Mix and match as you see fit to give your client area it's own unique spin.
Some additional features you'll find in the Allure WHMCS Theme:
Fully responsive design
Favicon support powered by RealFaviconGenerator
Built-in menu icon editor
Three (3) custom-built order forms
---
Licensing Options & Pricing
Unlike the SwiftModders WHMCS Admin and Client Themes, the Allure WHMCS theme will feature more licensing options. Typically my themes will feature a "Single-Site" and "Unlimited" license structure. Each license also has a yearly renewal fee for support and upgrades. This theme will feature similar licensing options with a renewal fee of $20. However, I am also offering lifetime* licenses which will not require you to renew your support and upgrades. Essentially you can pay a premium to avoid renewal for as long as the product exists. It has been 8 years since I created my first WHMCS theme and I plan to continue offering amazing support and updates for my work.
*Note: Lifetime is in reference to the shelf-life of the theme product and for as long as I can physically and mentally continue to product updates to this product. There is no guarantee that support will continue for this product if anything unforeseen were to happen in the future. If such an unfortunate situation were to occur, there will be no refunds available for your purchase.