Custom WHMCS Theme Development
With over 14 years of experience customizing WHMCS, we'll build you a custom WHMCS Theme unique to your business!
A Completely Unique Look for Your WHMCS Installation
Not to be confused with a simple WHMCS Integration service, SwiftModders offers a custom WHMCS theme service that involves making your own WHMCS theme from scratch. Every aspect of your WHMCS installation will be customized to your specifications to match your brand and create a unique experience for your customers. If you're looking to stand out from your competition, SwiftModders can help you achieve your goals!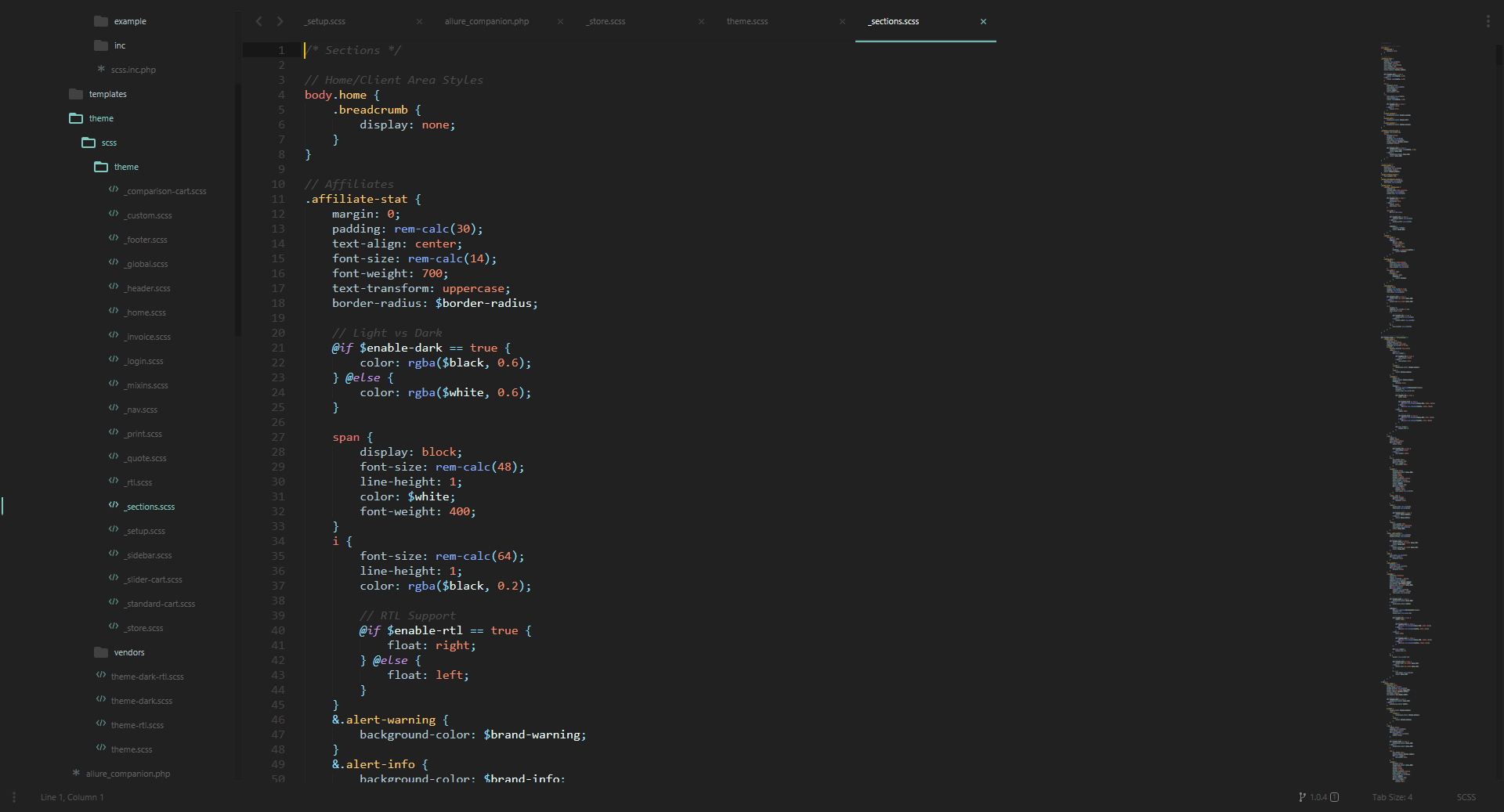 Custom WHMCS Theme
$2,500
Custom WHMCS Client Area Theme
1 Custom WHMCS Order Form Template
Fully Responsive HTML/CSS Code

Your WHMCS Theme will be built with a mobile-first approach that allows for maximum compatibility with all major screen sizes and devices.

Support for WHMCS 8.2+

SwiftModders offers support for the latest version of WHMCS to ensure that your custom WHMCS Theme will be easily supported for future edits.
Feature Packed
Additional Custom WHMCS Theme Perks
By hiring SwiftModders to build a custom WHMCS theme for your business, you will be receiving these additional features that help make the service a no-brainer.
Custom Email Template
SwiftModders will create a modern and responsive email template that matches the unique design of your custom WHMCS theme.
Add-on Module Integration
With so many fantastic WHMCS add-on modules on the market, SwiftModders will help integrate your addon modules into your custom WHMCS theme.
Premium Support & Updates
SwiftModders offers all custom WHMCS theme clients a 6-month window of premium support and updates. An additional six-month block can be purchased for $500.
The Easy Choice
Why Choose SwiftModders?
Experience in the Hosting Industry
WHMCS has been the billing platform of choice for SwiftModders since 2006 and has a wealth of experience in customizing the platform. Also, SwiftModders has been involved in the web hosting industry for years and continues to service many web hosting providers.
Quality Coding Standards
There is a reason why other providers offer WHMCS services at a much lower rate. SwiftModders has tremendous coding standards when it comes to your projects and offers only the best for you and your customers.
Responsive WHMCS Themes
SwiftModders understands the importance of mobile and imploys a mobile-first approach on all custom WHMCS theme projects. Your WHMCS theme will be tested thoroughly on all major devices and screen resolutions.
Extensive QA Process
There is nothing worse than encountering devastating bugs after launching a custom WHMCS theme. SwiftModders does extensive quality assurance testing to ensure maximum compatibility with all modern browsers.
Step-by-Step
Our Custom WHMCS Theme Development Process
While every client's needs are different, SwiftModders will always attempt to follow a detailed process and give you insight into each step taken to build your custom WHMCS theme. Here is a preview of the steps we would take to ensure the proper deployment of your next WHMCS theme.
01. Requirements Gathering
It's always important to start any project off on the right foot. In this very early stage, SwiftModders will communicate with you regarding the requirements for your next WHMCS Theme. Ensuring that this project reaches your goals will be important for its foundation.
02. Define Scope of Work
SwiftModders will take the information collected during the "Requirements Gathering" phase and develop a detailed Scope of Work (SOW) document that outlines the best course of action to complete each requirement.
03. WHMCS Development
With the SOW (Scope of Work) in hand and approved, SwiftModders will begin designing and developing the unique elements of your custom WHMCS theme to meet your expectations.
04. Internal QA & Approval
The development of your custom WHMCS theme should be winding down at this point, and you should be close to testing it yourself on one of SwiftModders' private servers. However, before that happens, extensive testing is being completed to ensure your WHMCS theme meets your standards.
05. Release & Support
Once your custom WHMCS theme is complete and deployed into your live environment, SwiftModders will begin its six-month window of support and updates. This will give you peace of mind as new WHMCS release and addon upgrades impact the sanctity of your WHMCS installation.
Start your next Custom WHMCS Theme project
Any Questions?
Absolutely! All Custom WHMCS Theme projects come with a six-month window of support and updates. This means if you have an issue with a WHMCS release* or an addon upgrade during this period, SwiftModders will assist you in fixing any visual issues you encounter.
If you're in need of a longer period of support and updates, you can purchase additional six-month blocks at $500 per.
*Note: This does not count for milestone releases. A WHMCS milestone release would be a jump of 7.x.x to 8.x.x as those releases tend to have large-scale codebase changes.
SwiftModders specializes in creating fully responsive WHMCS themes, but if your requirement is to have your WHMCS theme match your current website then your WHMCS theme will only be as responsive as your current website. If you would like to hire SwiftModders to make your current website responsive, we can create a custom quote for you as well.
SwiftModders utilizes Stripe for credit card processing on all project payments. In addition, Stripe supports ACH payments for all clients based in the United States. PayPal will not be accepted at this time.
Before SwiftModders begins work on your custom WHMCS theme, a 50% non-refundable deposit will be due. After the completion of your project, the remainder will be automatically invoiced for you to pay within seven (7) days. Once paid, your project files will be released.
On average, SwiftModders will turn around a custom WHMCS theme within 6-8 weeks of development starting. This time may be shortened or increased depending on the complexity of your scope of work
SwiftModders will make every effort to ensure your custom addon modules are compatible with your custom WHMCS theme. In the event that your addon modules are not supported by the developers or require extensive edits to ensure compatible, SwiftModders reserves the right to exclude these addons from the project.