WordPress Web Design & Development
Is your current website hurting your business? Let's build your next website with the power of WordPress!
Introducing the WordPress Website Design Package
SwiftModders has specialized in WordPress web design and development for over 10 years and is now offering a heavily-discounted website design package to help small businesses build a powerful and highly customizable website that caters to the needs of you and your customers.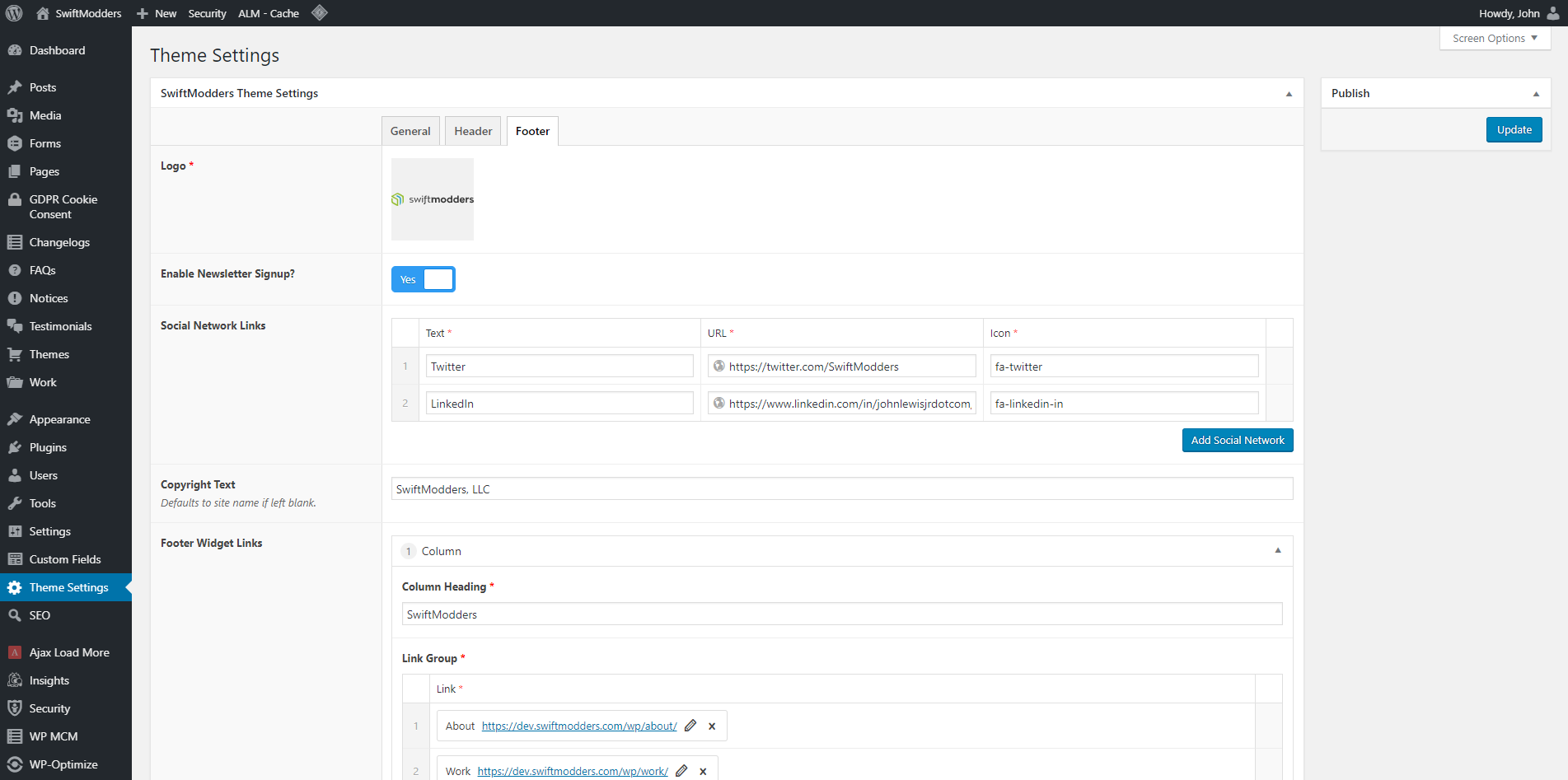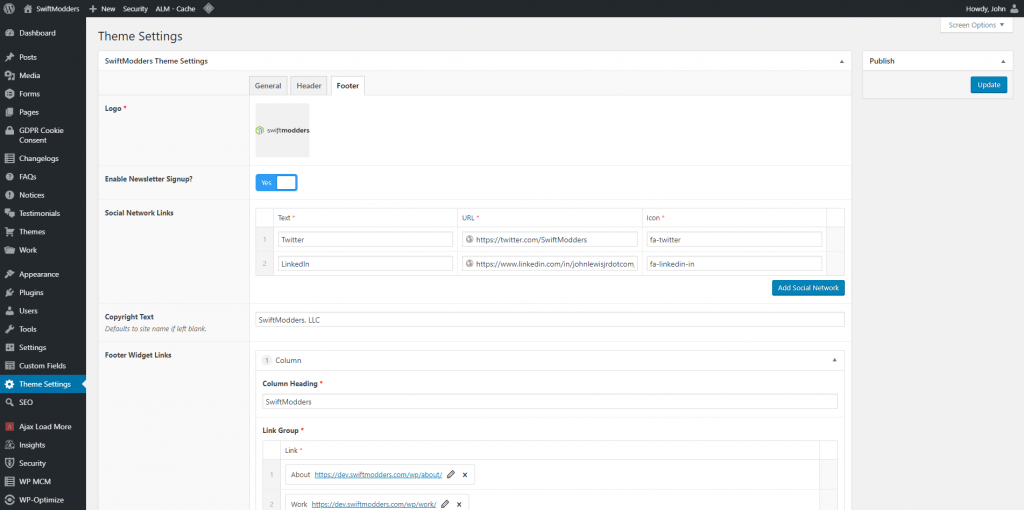 WordPress Website Design Package
$3,500
Custom-built Base WordPress Design

SwiftModders will develop a custom WordPress theme that will allow you to easily edit your website from within the WordPress admin panel.

5 Additional Sub-Page Designs
Unlimited Website Design Revisions

You will be allotted unlimited base design revisions that do not require additional functionality or added complexity to the website build. Advanced revisions will incur additional costs.

Fully Responsive HTML/CSS Code

Your website will be built with a mobile-first approach that allows for maximum compatibility with all major screen sizes and devices.

FREE WHMCS Integration

If you're using WHMCS as your billing software provider, you will be eligible for a free header and footer WHMCS Integration. This will ensure your design is represented consistently between each property.
Need Additional Sub-Page Designs?
Not a problem at all! SwiftModders offers additional sub-page designs for only $500 per page.
Powerful & Flexible
Why Choose WordPress?
WordPress powers over 30% of all websites on the web and is the development platform of choice for SwiftModders. Below you will find the many reasons why we use WordPress on our own website and continue to recommend it to our clients.
Free & Open-Source
WordPress has been in active development since 2003 and continues to flourish with a large community of developers updating the framework to meet current development standards. Not only that, it's 100% free!
Flexible & Scalable
WordPress has grown from its roots a blogging software and become a powerful and robust CMS platform that can grow as you do. With an extensive library of plugins, you can use endless amounts of functionality that meet your needs.
SEO Friendly
WordPress comes pre-built to support SEO standards to ensure that your website is easy for your customers to find. Utilizing additional plugins, we can ensure your website is not only SEO friendly but built to rank highly in all major search engines.
Easy to Use
It does not take a degree in software development to manage your WordPress site. WordPress comes with a user-friendly interface that makes day-to-day edits of your website quick and easy.
Safe & Secure
The WordPress development community takes security very seriously and stays on top of would-be hackers looking to exploit your website. Also, there are many platform hardening options available to elevate your website security to the next level.
Media Support
WordPress comes packaged with a powerful file manager that allows you to upload various media file types to your website easily. You can also take advantage of the powerful embed functionality that will auto-embed links to YouTube, Vimeo, Twitter, and more.
The Easy Choice
Why Choose SwiftModders?
Quality Coding Standards
Do not settle for inferior WordPress development standards! SwiftModders has a deep understanding of the WordPress ecosystem and proper PHP, HTML, and CSS coding standards to build your website right.
Security Auditing & Hardening
SwiftModders goes the extra mile to ensure that your WordPress website features both standard and advanced security measures like SSL encryption, two-factor authentication, malware security scanning, and more!
Responsive Web Design
SwiftModders understands the importance of mobile and imploys a mobile-first approach on all website design and development projects. Your website will be tested thoroughly on all major devices and screen resolutions.
Extensive QA Process
There is nothing worse than encountering devastating bugs after launching a brand new website. SwiftModders does extensive quality assurance testing to ensure maximum compatibility with all modern browsers.
Step-by-Step
Our WordPress Development Process
While every client's needs are different, SwiftModders will always attempt to follow a detailed process and give you insight into each step taken to build your new website. Here is a preview of the steps we would take to ensure proper deployment of your next WordPress website design project.
01. Initial Research
SwiftModders will research your brand, customers, and competitors to understand your position within the market. This information will guide the website development project as we gain a clearer understanding of your needs.
02. Wireframing
Once a clear business strategy involving your new website project has been completed, SwiftModders will begin the process of converting your company goals into wireframe designs that represent the proper structure and placement of content.
03. Web Design Concepts
Wireframes are great when it comes to determining the overall structure and placement of content on your website, but are often grayscale and minimalistic in design. During this phase, SwiftModders will further flush out the wireframes to better show the brand colors, typographic, imagery, and specific design elements of your website.
04. WordPress Web Development
After you've approved the web design concepts in the previous step, SwiftModders will begin transforming the static HTML and CSS elements into a fully functional WordPress powered website. Typically this development work will be done on a private server for testing purposes.
05. Internal QA & Approval
The development of your new website should be winding down at this point, and you should be close to testing it yourself on one of SwiftModders' private servers. However, before that happens, extensive testing is being completed to ensure your new website meets the standards we've set.
06. Release & Delivery
A lot of work has been completed to get to this point, and SwiftModders is happy to have been part of your WordPress web design project. After extensive testing and approvals, your new website is released, and all project deliverables sent. Congratulations!
Start your next WordPress Development Project
Any Questions?
By default, the package does not include maintenance service, but you can purchase a maintenance contract with SwiftModders for $300 per month. Please reach out for more details.
If your WordPress website project does not require five (5) additional sub-page designs, then you can bank those pages for later use in either your current project or future projects. If you need more, then you can purchase additional sub-page designs at $500 per.
Before SwiftModders begins work on your WordPress website project, a 50% non-refundable deposit will be due. After the completion of your project, the remainder will be automatically invoiced for you to pay within seven (7) days.
SwiftModders utilizes Stripe for credit card processing on all project payments. In addition, Stripe supports ACH payments for all clients based in the United States. PayPal will not be accepted at this time.
On average, SwiftModders will turn around a WordPress website design project within 8 weeks of development starting. This time may be shortened or increased depending on the complexity of each website and the individual needs of the client.
Absolutely! SwiftModders does not reuse design materials from client-to-client. The mission is to ensure your website meets your unique goals, branding, and customer needs.
After the final payment has been confirmed, you will have the full right to do whatever you like with the site developed.