SwiftModders WHMCS Admin Theme
The top-rated WHMCS Admin Theme trusted by over 1,000 business to drastically improve their staff experience in WHMCS!
Requirements
WHMCS 8.3+, PHP 7.2+
Your staff will love you!
The SwiftModders WHMCS Admin Theme will give your current WHMCS admin portal a responsive and modern look and feel. Increase your staff efficiency and productivity by giving them a more cohesive and friendly user experience. Take your WHMCS admin portal to the next level by completely branding the theme with your logo, fonts, and colors via the SwiftModders Companion addon module.
Product Gallery
Select Your License
---
All licenses will remain active for the lifetime of the product. All non-"+" licenses will require a yearly subscription for continued access to downloads and support. Before purchasing, be sure to read our
License Agreement
.
It's So Pretty
Feature Highlights
Fully Responsive
This theme comes with a fully responsive design framework built around Bootstrap 3 and an easy to use mobile menu.
Completely Customizable
Use the SwiftModders WHMCS Theme Installer to customize the general layout, fonts, colors, and any custom CSS/SCSS you would like to add.
Fast & Friendly Support
One of my missions is to ensure that every client who purchases this team is well-supported and most importantly, happy!
Unencoded TPL Files
There is nothing more annoying for a developer than not having access to source files. Luckily this theme offers unencoded TPL files.
Over 1,000 Purchases
This theme has been purchased by over one thousand times and continues to see purchases daily. So many people cannot be wrong, right?
Modern & Sleek Design
This theme takes advantage of the latest in web design trends and offers a beautiful modern UI that will impress your staff.
Powered By
The SwiftModders WHMCS Theme Installer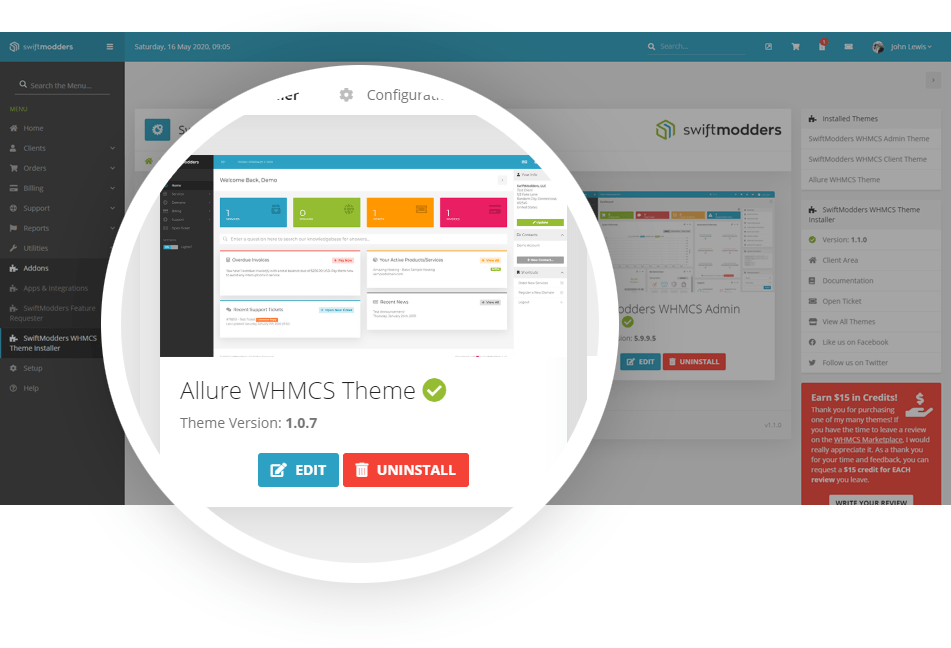 Manage Your Themes
Easily manage all of your SwiftModders WHMCS Themes from one module. The Theme Installer will offer you insight into available updates, problems with your install, debugging tools, and much more!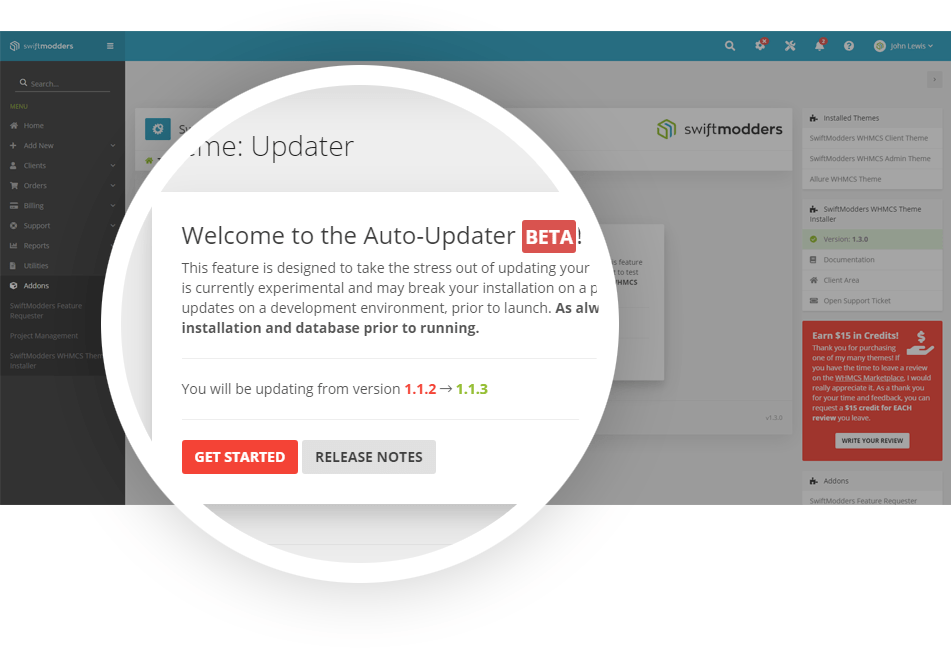 NEW

Update Your Themes Automatically

As of version 1.3.0, you can automatically update your SwiftModders WHMCS Themes from the Theme Installer. Save your time, save your effort, and leave all the work to the module!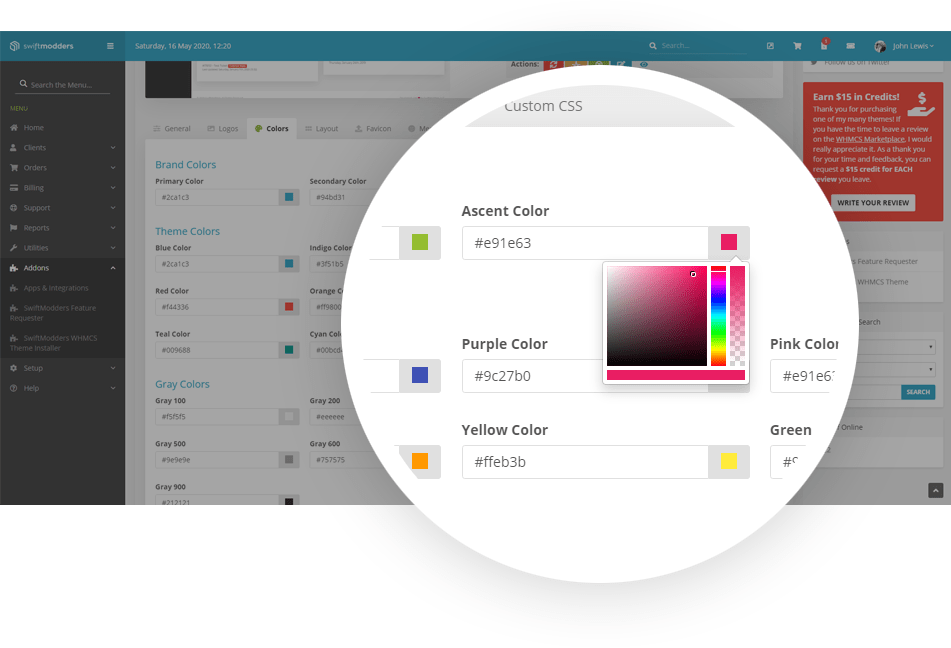 Customize Your Look & Feel
Make your theme purchase unique to your business and brand by editing general theme settings, logos, the layout structure, colors, and much more!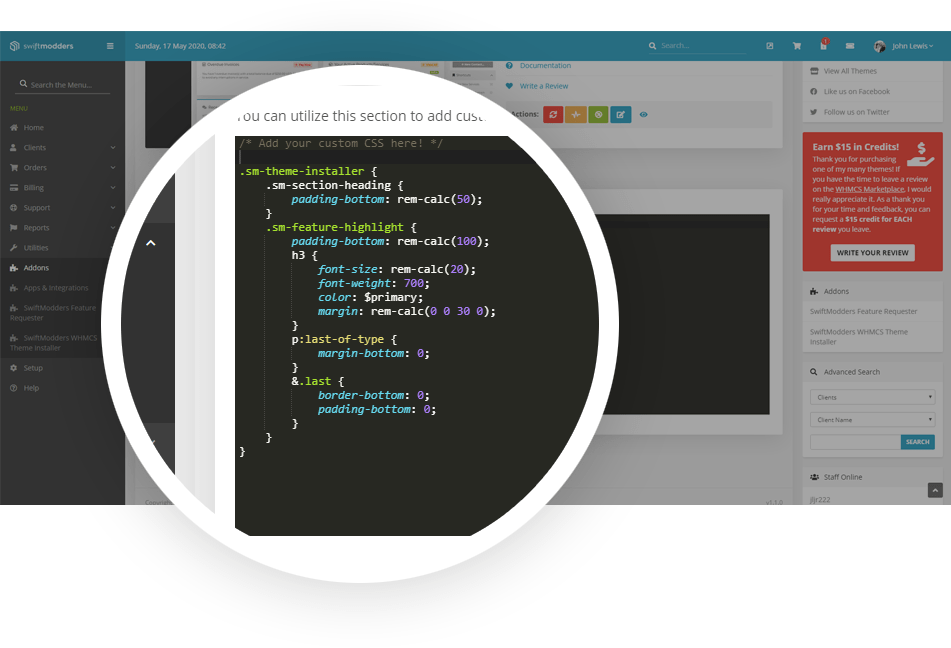 Web Developer Friendly
Take control of your theme by utilizing the Custom CSS tab to input your custom CSS or SCSS/SASS code into the theme. Also, all themes come with unencrypted TPL files.
Always Here to Help
Need Help Getting Started?
Installation
$15
If you're not confident in your ability to install the theme yourself, I can do it for you! Give yourself peace of mind by hiring me to do the process for you. It's quick, easy, and best of all inexpensive.
Great admin theme. Installation was really simple. The theme itself is very clean.
Just purchased the SwiftModders Admin theme and what an improvement it is! So clean and easy to use. Thank you for making a great admin theme. Next is the Client theme for me I think 🙂

Keep up the amazing work guys!