Allure Blesta Client Theme
One of the most top-rated Blesta client themes available on the market today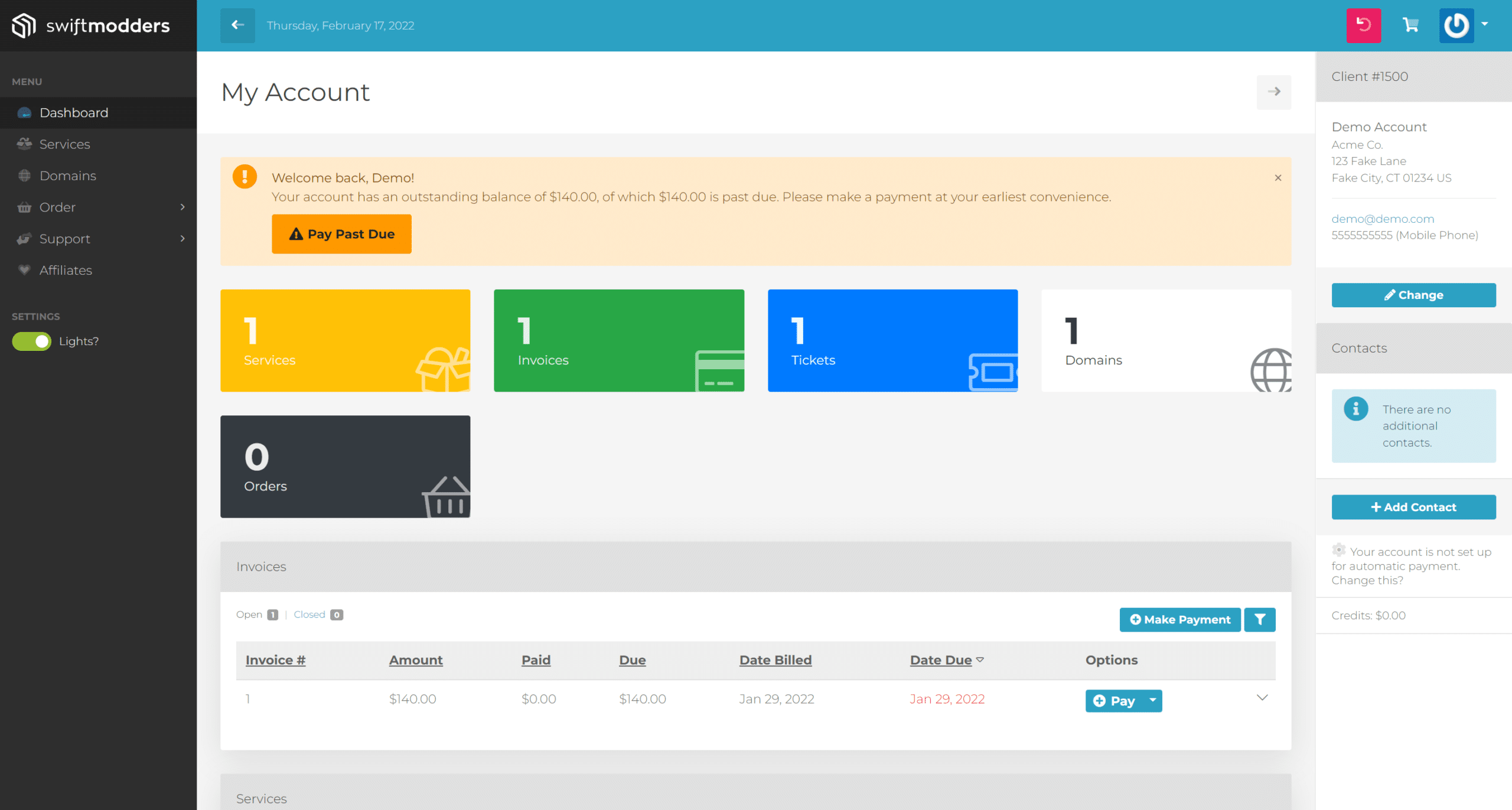 Requirements
PHP 7.2+, Blesta 5.8+
Allure is the perfect solution for your Blesta business
The Allure Blesta Client Theme was meticulously crafted with a modern design approach that completely transforms how Blesta looks for your clients. Our theme is highly customizable and offers many features, such as a dark theme, RTL support, menu icon editing, favicon support, and so much more!
Features
Tons of features you'll love
Powered by Bootstrap
The Allure Blesta Client Theme is built using the Bootstrap 4 CSS framework to ensure a responsive look and feel.
Fully customizable
Edit colors, fonts, layout options, and more by utilizing the Theme Installer plugin to help make your theme look unique.
Fast and friendly support
Our support is a fan-favorite for our clients, and we promise you'll love our attention to detail.
Dark theme
You can use the dark theme straight out of the box or allow your customers to "turn off the lights."
Right-to-left (RTL) support
You can enable and disable support for right-to-left orientation for your Blesta client theme.
Favicon support
Complete your branding by applying a custom favicon that best represents your business.
Menu icon editor
Our Theme Installer gives you the power to pull the latest icons from your Font Awesome kits. Only version 5 is supported at this time.
Unencoded PDT files
We do not encode any of the PDT files found in the Allure Blesta Client Theme, allowing you to make further customizations.
Custom order templates
The Allure Blesta Client Theme comes with two (2) custom order forms designed to match the look and feel of this fantastic theme.
Powerful
Manage your theme with ease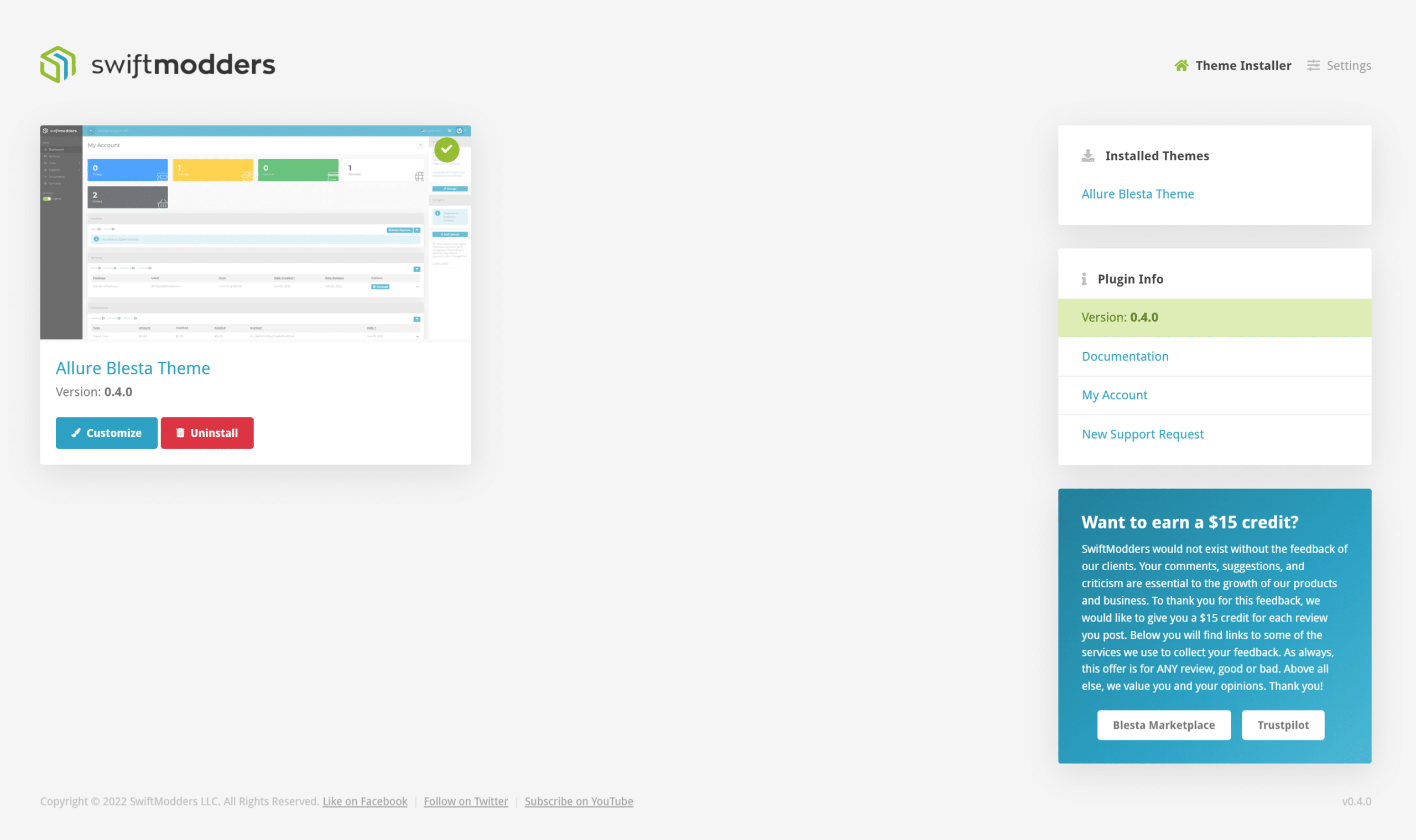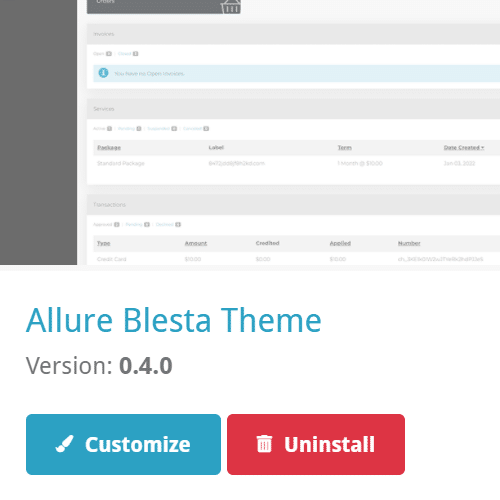 Manage your themes
Easily manage all of your themes from one plugin. In addition, the Theme Installer will offer you insight into available updates, debugging tools, and more!
Font Awesome kit support
The Theme Installer offers a Font Awesome 5 integration with your theme purchase. This will make it easy to set the Font Awesome icons you want to use for your theme.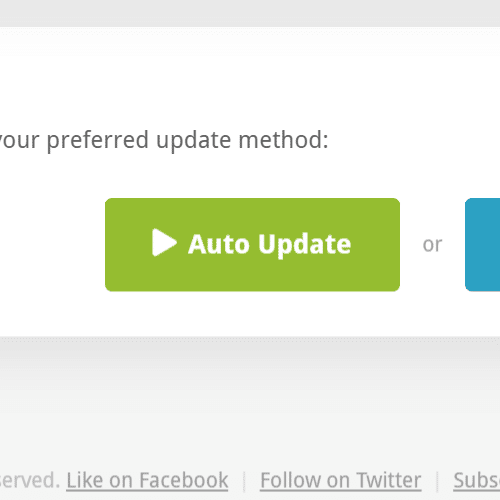 Update your theme automatically
You can automatically update your theme from the Theme Installer. So save your time and effort, and leave all the work to the Theme Installer!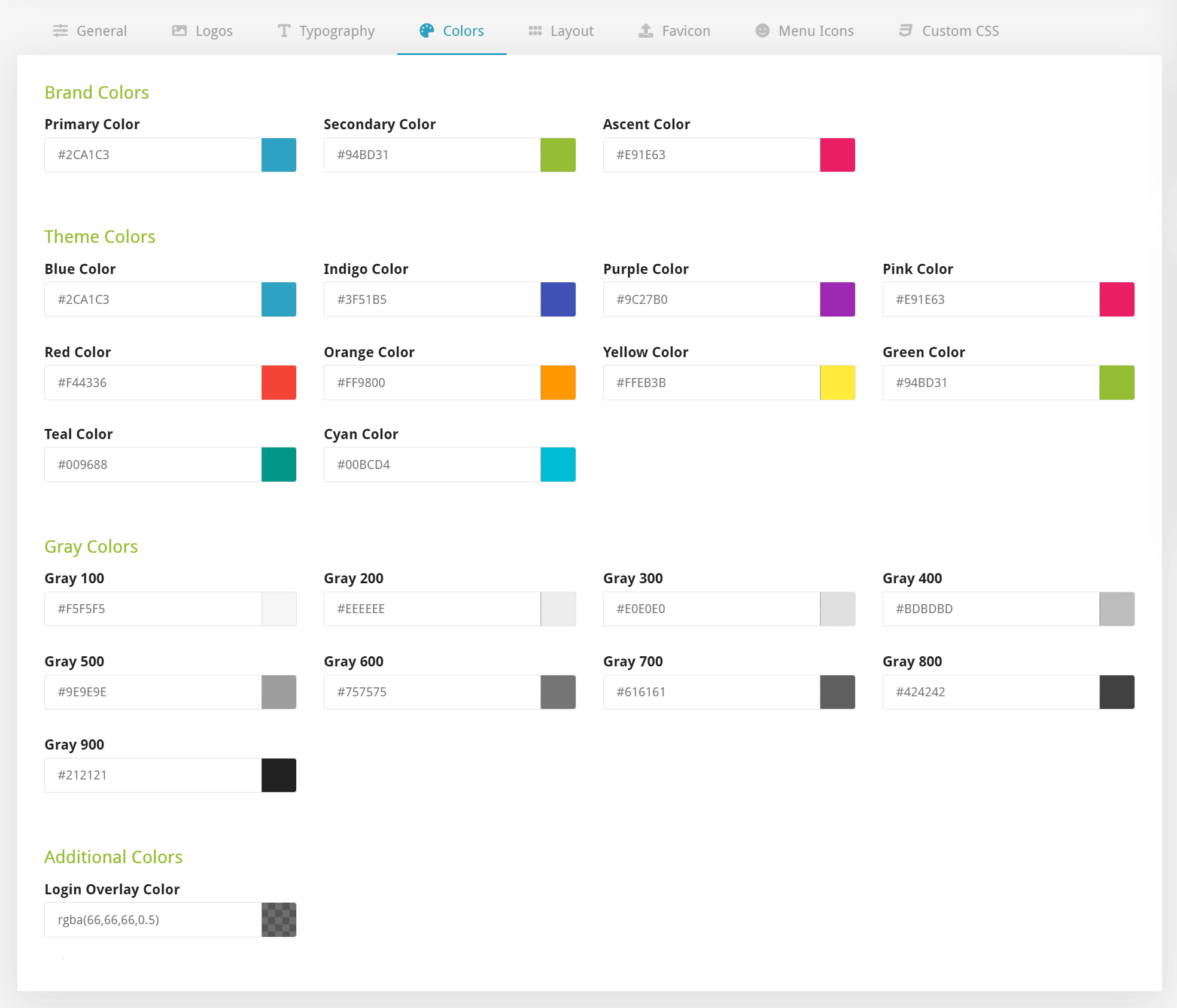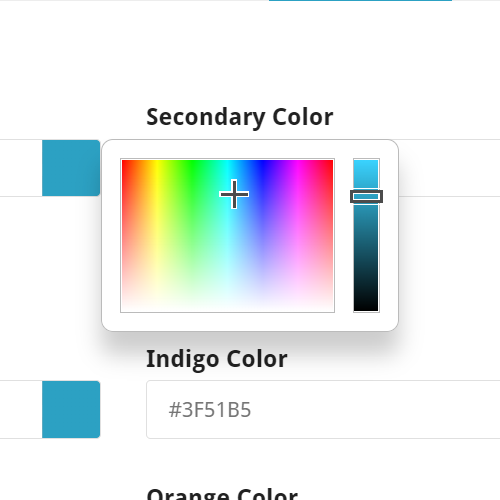 Customize the look and feel
Make your theme unique to your business and brand by editing general theme settings, logos, layout structure, colors, and more!
Web developer friendly
Take complete control of your Blesta theme by utilizing the Custom CSS tab to input your custom CSS or SCSS/SASS.
Pricing
LIMITED TIME:
Get
35% OFF
all SwiftModders products when you use the promo code "
SUMMERTIME35
" during checkout!
Apply the discount
!
*The term "lifetime" is applicable for any active product offering from SwiftModders. SwiftModders reserves the right to terminate a product and license at any time in accordance with our
License Agreement
.
We're here to help
Additional services available as needed
Installation and update service
$15
We are available to help you install or update any of our products. Our goal is to make your life easier!
Request Service
Theme customization service
$100
Sometimes you need a little help to get the look you want. We have no problem helping you adjust your theme purchase to match your brand colors and fonts.
Request Service
Customer Reviews
Our customers love it, and you will too!
Allure is beautifully made, beyond the scope of anything else on the market. John seems to have left no stone unturned in ensuring this is perfect – trying to find faults is near impossible.

On the occasions we've needed support, we have received professional and timely responses. Having been a client of Swiftmodders for many years, it's reassuring to know our business is in safe hands.
SwiftModders has been my go-to for WHMCS and Blesta Themes for over two years. Since I switched to Blesta over a year and a half ago, SwiftModders has produced a very nice Allure theme. Big Fan of John's work; always very helpful in resolving bugs or issues quickly. I would definitely recommend SwiftModders for your next theme.